MeeLocal Socializes Personal Content Through Mobile Curation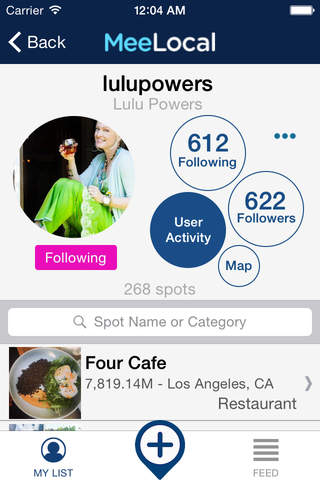 Over the past few years, we have seen an overwhelming influx of social media platforms, mobile tools and trends.  It's virtually impossible to go anywhere without feeling the urge to 'like' a café on Facebook, tweet your opinions on a nearby bar, or Instagram the delicious meal you just scarfed down (filtered, of course).
In a world where we are constantly updating our profile pictures, trying to get our favorite celebrities to retweet us and being overloaded with unnecessary information, it makes sense that we should want to cut down the noise and step back from this e-circus.  In steps MeeLocal, bringing us back to reality and hopefully saving us from ourselves.  This new moble app, launched by founder Stephen Danelian from L.A., has the potential to be the next big innovation in social media and reconnect us with (gasp!) real world activities and experiences.
MeeLocal is based entirely off user-generated content, which you can filter based on location, proximity, category, and most importantly and innovatively, demographic.  As a 20-something young professional, the last place I want to end up is a smelly, sticky college bar (although the occasional return to Maryann's for a BC football game is not out of the question), and MeeLocal helps me find a spot more geared towards the people I want to be surrounded by, in a location that is accessible and interesting.  This is especially helpful for people like me who find it difficult to stop returning over and over again to the same places each weekend night.  MeeLocal allows users to immediately post photos and comments for places they have been, letting others in their demographic and location know how great (or not so great) these establishments are. The impact an app like this can have in the consumer review space is big, since apps like Yelp tend to foster limited kinds of reviews or social sharing and tend to have a concentration in the restaurant or service industry.
If you are easily overwhelmed—by the absurd amount of noise coming from Twitter, Facebook, and Instagram—or merely by having to choose where to eat on Friday night, MeeLocal is shaping up to be the best streamlined platform in online content sharing.  The photo sharing capabilities provide incentives to visit brick and mortar locations, not just virtual shopping and distance sharing. With plans to unveil a dashboard for businesses, MeeLocal will allow local businesses to bring in new customers as well as more seamlessly interact with, and potentially reward, loyal patrons. There's just one problem.  Because MeeLocal is currently based purely off what people are posting, and because the app is so new, Boston listings are limited.  So for my sake, Boston, get out there, download this app, and help me be more fun and adventurous!
By Catherine Kellogg, Account Coordinator, Public Affairs